Premier Legal Services On A First Name Basis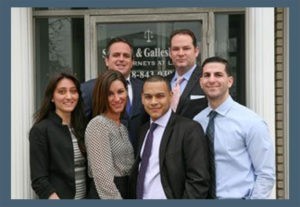 The experienced attorneys of Sullivan & Galleshaw, LLP focus on all personal injury matters including injuries caused by medical malpractice, nursing home abuse, car and truck accidents, slip and falls, and workplace accidents. Our firm's commitment to each of our clients goes well beyond providing high-quality legal advice and strategic advocacy. When we provide legal services, we do so on a first name basis with the care, experience and competence that our clients deserve. The process of developing a strong attorney-client relationship can bring many benefits to the handling of your personal injury claim; it can help us better understanding the limiting effects of your injury and your litigation needs and goals.
Our firm is known and respected throughout New York and nationwide. When major television news channels like Fox News, MSNBC, NBC 4 New York, and Fox 5 NY are seeking legal answers and clarification they come to us. Likewise, when newspapers, and print media sources like the NY Post, New York Daily News, LA Times, Queens Courier, and the Long Island Press are seeking insight, they also come to us. In short, you can rely on the legal guidance and advice provided by the experienced lawyers at Sullivan & Galleshaw.
At Sullivan & Galleshaw, LLP our personal injury lawyers are committed to each and every one of our clients. We pursue all viable claims strategically and aggressively so as to increase the likelihood of a favorable outcome. When you work with our firm, you can rest assured that we will actively and tirelessly work to hold the party responsible for your severe injuries or your loved one's wrongful death financially accountable. We are the firm you need when it matters most to you and your loved ones.
At Sullivan & Galleshaw we believe that we have a responsibility to the public. As part of the responsibility and commitment to justice and public outreach, the attorneys of Sullivan & Galleshaw, LLP participate in an extensive amount of pro bono representation. This representation provides high-quality and experienced lawyer for those who may currently be severely injured or less fortunate, but are equally as important. Our pro bono representation includes the Wounded Warrior Project, Merit Matters, the Dr. Theodore A. Atlas Foundation, the Boxing Writers Association of America and more. Furthermore the firm has also founded a promotional & event hosting company where 100% of all profits are donated to worthy causes and 0charities. These are just a few of the ways we express our commitment to justice and to the citizens of New York.
Sullivan & Galleshaw, LLP can provide clients with aggressive representation in array of personal injury litigation matters. In every case we take, we treat our clients with compassionate, professional and detail-oriented legal guidance. In essence, our clients' needs always come first.