New York City Premises Liability Lawyers
Whether you are walking down the street, going into a store to shop, or visiting a friend at their apartment complex, you expect the buildings and other properties you visit and travel past to be reasonably safe and secure. Whether they are private or commercial, all property owners are expected to keep their premises free of hazards which could harm residents, visitors, and passerby. If you were injured on someone's property, or if a loved one passed away due to a preventable property accident, you may be entitled to receive compensation for your losses.
At Sullivan & Galleshaw, our New York premises liability lawyers have more than 16 years of experience advocating on behalf injury victims and their families. We handle a wide variety of case types, and are dedicated to the aggressive pursuit of justice and compensation for our clients. To set up a completely free and confidential legal consultation, call our law offices right away at (718) 843-0300.
What is Premises Liability?
The term premises liability simply means that property owners are responsible for keeping their lands and/or buildings free of foreseeable and preventable safety hazards that could hurt other people. In New York City, there are numerous building codes which restrict and regulate how and where structures may be constructed, and which features they must include. For example, the New York City construction codes adopted by the Department of Buildings in 2008 regulate all aspects of construction, from plumbing, to gas and fuel, to mechanical components such as air ducts and water heaters.
Not only must structures and lands be constructed in accordance with the law – they must also be regularly maintained once they are completed. If a property owner is aware that his or her premises could pose a threat to others, yet does nothing to remove or repair the hazard, he or she may be held financially liable for any injuries or deaths which occur as a result.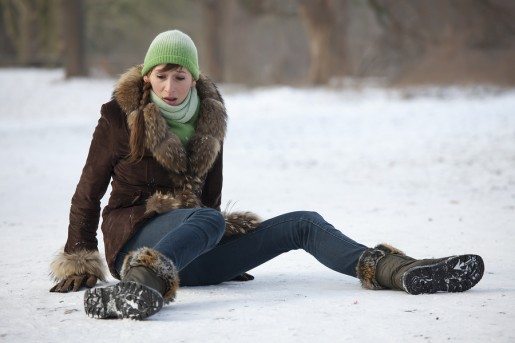 Common Examples of Accidents and Injuries Caused by Property Hazards
If a property owner fails to correct a known danger on his or her premises, that owner may be considered negligent and therefore potentially liable for death and injury compensation. Negligent property maintenance comes in many different forms, with some of the more common examples including:
Broken or loose flooring materials, including tiles, carpeting, and wooden boards.
Failure to cordon off or repair a known leak.
Failure to maintain escalators and/or elevators.
Failure to properly secure loose objects which could fall and injure people, such as air conditioners placed in windows.
Failure to remove dead or diseased branches or trees which could break or collapse.
Failure to repair or cordon off electrical hazards.
Installation of inadequate lighting.
Loose and trailing wires on the floor.
Wobbly, weak, and broken handrails and banisters.
Any of these conditions can lead to severe injuries, and in extreme cases, even accidental death. For example, virtually any of the above hazards can lead to a slip and fall accident, one of the most common types of premises liability claims. While accidental falls can affect anyone, the elderly are at an elevated risk of sustaining serious injury or death. The CDC reports that among people aged 65 or older, accidental falls:
Are ranked as the number one leading cause of both injury and death, including TBI (Traumatic Brain Injury).
Account for more than 95% of all hip fractures.
Accounted for over 2 million emergency room visits in 2012 alone.
In addition to TBI, some common types of injuries and medical conditions which can be caused by falls and other premises liability accidents include but are not limited to:
Bone Fractures
Internal Bleeding
Lacerations
Organ Damage
Paralysis
Permanent Disfigurement
Severe Burns
Spinal Cord Injury (SCI)
In addition to causing injury directly, certain property conditions can also contribute to events which result in injury. For example, if a commercial property owner fails to install adequate lighting in a parking lot or parking garage, or fails to hire sufficient security staff where needed, an innocent person may be robbed or mugged, physically beaten, or sexually assaulted.
We can also provide legal counsel to clients facing the following more specific premises liability issues:
If you were injured in an accident caused by a dangerous piece of property, or if a loved one was the victim of wrongful death, Sullivan & Galleshaw can help. To arrange for a private case evaluation free of charge, call our New York premises liability attorneys at (718) 843-0300, or contact our law offices online.