New York Motorcycle Accident Lawyers
Cruising through the City on a motorcycle can be an exciting and relaxing way to see the sights of New York and the surrounding areas. Whether you are cruising down the FDR Drive or headed upstate on the New York Thruway, a motorcycle can be one of the most enjoyable and engaging forms of travel. However, travel by motorcycle is not without some potential drawbacks. Perhaps one of the most concerning drawbacks for motorcyclists is the relative lack of safety features in comparison to passenger vehicles. Motorcycles do not have air bags, unit-body construction, or safety restraints that come standard in passenger vehicles. Thus, injuries due to a motorcycle accident can often be more severe than those involving a car or SUV.
The attorneys of Sullivan & Galleshaw can fight for motorcyclists who have suffered a serious injury due to the carelessness or recklessness of another motorist. We fight to obtain compensation for your injuries, pain and suffering, and other damages.
For What Reasons Do Motorcycle Accidents Occur?
Motorcycle accidents, and all accidents, are the products of complex chains of events and factors that converge into a collision. While the reasons for each and every motorcycle crash are unique, there are some factors that are commonly present. These factors include:
Reduced visibility of the vehicle – While motorcycles are extremely maneuverable, that maneuverability is chiefly because of the bike's reduced profile when compared to a car or truck. In fact, a motorcycle's reduce visibility is one of the most common factors in a motorcycle accident.
Aggressive or reckless driving – Aggressive driving can involve speeding, excessive lane changes and other dangerous actions. Reckless driving can reduce one's reaction time and increases the likelihood of an accident occurring.
Failure to obey traffic signals – The failure to obey traffic control devices can cause other drivers to take extreme & unpredictable actions on roads and highways. These actions make the occurrence of a collision much more likely.
Mechanical failure due to poor maintenance – Poor maintenance to a motorcycle or other vehicle can result in unexpected problems and issues with controlling the vehicle. Losing control of a vehicle can cause either a multi-vehicle or single-vehicle accident.
While the preceding discusses many of the more common reasons for motorcycle accidents, many other aggravating factors exist. A fatigued driver, distracted driver, or poor weather conditions can also be factors in motorcycle or vehicular accidents.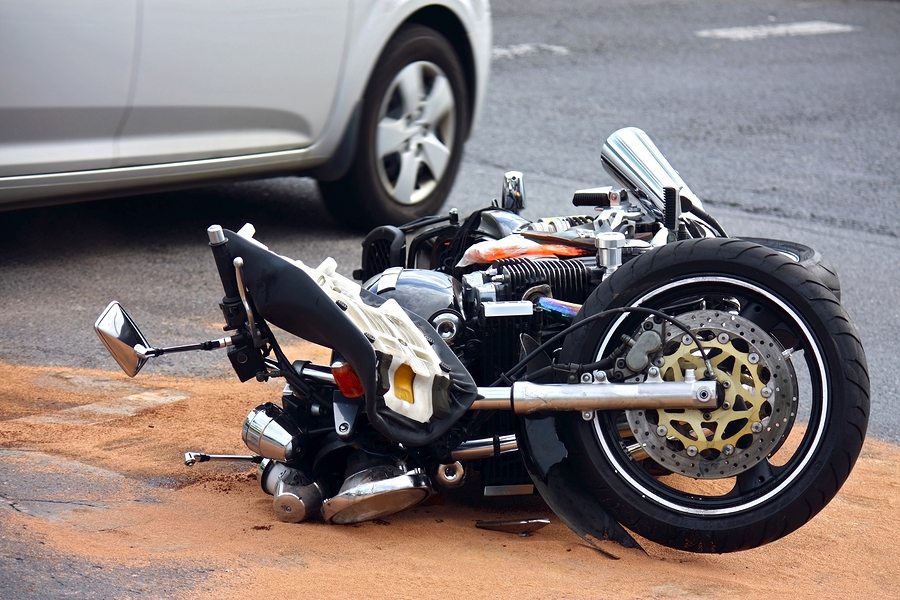 Are There Common Types of Injuries Produced by Motorcycle Crashes?
Motorcycle accidents often inflict serious injuries on the rider because the rider is directly exposed to many of the violent forces present in an accident.
Traumatic brain injury (TBI) – While wearing an adequate helmet and safety gear can reduce the of a moderate to severe TBI occurring, no safety gear or safety device can guarantee 100% safety. However riders should take all reasonable steps to protect themselves from serious brain injury.
Bone fractures – A bone fracture can range from a serious injury that requires surgical intervention, to slight bone chips that will often resolve on their own. Bone fractures can be extremely painful and take months or years to fully recover from.
Whiplash injuries – Whiplash is perhaps the most common injury following an automobile wreck. Whiplash can vary in severity but it can cause nausea, confusion, and changes in one's mood.
PTSD – Those involved in serious, violent accidents are at risk of developing conditions like post-traumatic stress disorder. PTSD can have an extremely limiting effect on one's daily life.
Unfortunately, many other injuries can occur in a motorcycle accident including death. If you or a loved one have suffered a catastrophic injury due to a motorcycle accident, contact the motorcycle accident lawyers of Sullivan & Galleshaw. To schedule your free & confidential legal consultation call 1-718-843-0300 or contact us online.