New York Motorcycle Accident Lawyers
Cruising through the City on a motorcycle can be an exciting and relaxing way to see the sights of New York and the surrounding areas. Whether you are cruising down the FDR Drive or headed upstate on the New York Thruway, a motorcycle can be one of the most enjoyable and engaging forms of travel. However, travel by motorcycle is not without some potential drawbacks. Perhaps one of the most concerning drawbacks for motorcyclists is the relative lack of safety features in comparison to passenger vehicles. Motorcycles do not have air bags, unit-body construction, or safety restraints that come standard in passenger vehicles. Thus, injuries due to a motorcycle accident can often be more severe than those involving a car or SUV.
The attorneys of Sullivan & Galleshaw can fight for motorcyclists who have suffered a serious injury due to the carelessness or recklessness of another motorist. We fight to obtain compensation for your injuries, pain and suffering, and other damages.
For What Reasons Do Motorcycle Accidents Occur?
Motorcycle accidents, and all accidents, are the products of complex chains of events and factors that converge into a collision. While the reasons for each and every motorcycle crash are unique, there are some factors that are commonly present. These factors include:
Reduced visibility of the vehicle – While motorcycles are extremely maneuverable, that maneuverability is chiefly because of the bike's reduced profile when compared to a car or truck. In fact, a motorcycle's reduce visibility is one of the most common factors in a motorcycle accident.
Aggressive or reckless driving – Aggressive driving can involve speeding, excessive lane changes and other dangerous actions. Reckless driving can reduce one's reaction time and increases the likelihood of an accident occurring.
Failure to obey traffic signals – The failure to obey traffic control devices can cause other drivers to take extreme & unpredictable actions on roads and highways. These actions make the occurrence of a collision much more likely.
Mechanical failure due to poor maintenance – Poor maintenance to a motorcycle or other vehicle can result in unexpected problems and issues with controlling the vehicle. Losing control of a vehicle can cause either a multi-vehicle or single-vehicle accident.
While the preceding discusses many of the more common reasons for motorcycle accidents, many other aggravating factors exist. A fatigued driver, distracted driver, or poor weather conditions can also be factors in motorcycle or vehicular accidents.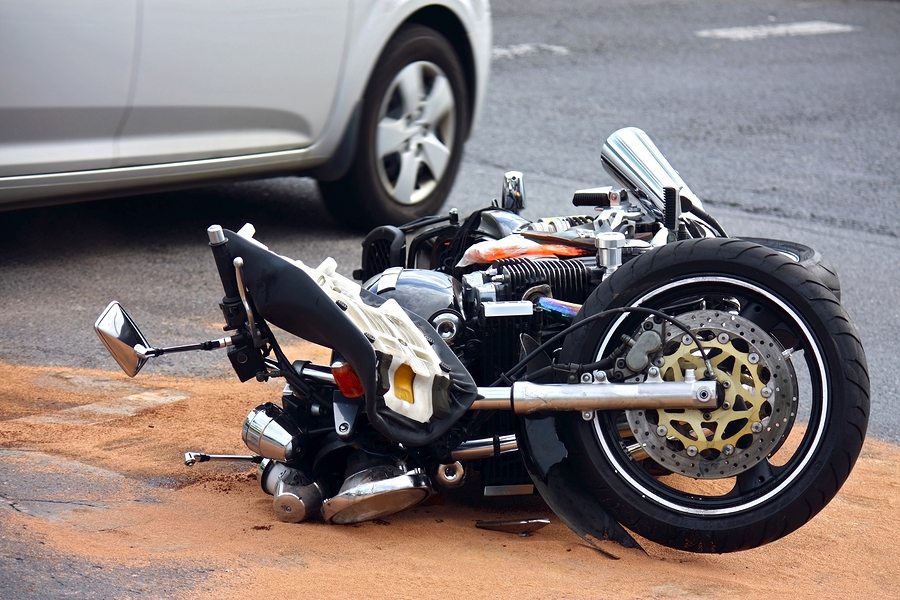 Are There Common Types of Injuries Produced by Motorcycle Crashes?
Motorcycle accidents often inflict serious injuries on the rider because the rider is directly exposed to many of the violent forces present in an accident.
Traumatic brain injury (TBI) – While wearing an adequate helmet and safety gear can reduce the of a moderate to severe TBI occurring, no safety gear or safety device can guarantee 100% safety. However riders should take all reasonable steps to protect themselves from serious brain injury.
Bone fractures – A bone fracture can range from a serious injury that requires surgical intervention, to slight bone chips that will often resolve on their own. Bone fractures can be extremely painful and take months or years to fully recover from.
Whiplash injuries – Whiplash is perhaps the most common injury following an automobile wreck. Whiplash can vary in severity but it can cause nausea, confusion, and changes in one's mood.
PTSD – Those involved in serious, violent accidents are at risk of developing conditions like post-traumatic stress disorder. PTSD can have an extremely limiting effect on one's daily life.
Unfortunately, many other injuries can occur in a motorcycle accident including death. If you or a loved one have suffered a catastrophic injury due to a motorcycle accident, contact the motorcycle accident lawyers of Sullivan & Galleshaw. To schedule your free & confidential legal consultation call 1-718-843-0300 or contact us online.
FAQs
What steps should I take after a motorcycle accident?
First, you should stop your motorcycle and ask if anyone needs an ambulance to come pick them up. Of course, you might be in massive pain, since motorcyclists typically suffer the brunt of any collision. Still, if you can move around, you should ask other people if they need assistance.
You should also call the police to report the wreck. Give your location so an officer can respond and create an accident report.
Also try to document the accident. Remember, no one else will know what happened other than you and the driver who hit you. Talk to witnesses and ask for their names. Also take pictures with your phone of your motorcycle and any vehicles involved. Of course, only do this if you can move around after the crash.
What mistakes should I avoid after an accident?
You should avoid admitting fault for the crash. Anything like an apology could be interpreted as you accepting responsibility for the collision, so try to keep small talk to a minimum.
You should also avoid giving a recorded statement to any insurer without first securing the help of an attorney. Some insurers will try to get you to admit fault, which can reduce the amount of compensation you receive for your injuries. If an insurer contacts you, refer them to your attorney.
Also never agree to a settlement offer without letting an experienced lawyer review it first. You probably can receive more compensation than the insurance company is offering.
What is a fair settlement for my injuries?
What's "fair" will depend on many facts. Let's look at a few.
First, you should receive compensation for economic losses like motorcycle repairs, lost income, medical bills, and other expenses. With motorcyclists suffering serious injuries, these losses could be considerable. And unless you are partially to blame for the accident, the driver who struck you should pay for these losses.
Second, you should receive compensation for your pain and suffering. This is a term used in New York to refer to physical pain and discomfort caused by a collision, but also emotional distress and depression. If you can't enjoy hobbies or sleep comfortably, then you should receive something for that suffering.
Is lane splitting legal in New York?
No. Lane splitting refers to riding in between lanes. Many motorcyclists like to lane split because they feel safer and they can usually get to their destination quicker. Unfortunately, New York has not legalized lane splitting.
Also, motorists are not expecting you in between lanes, so you could frighten them or get struck. Lane splitting can also qualify as negligence on your end and reduce your compensation.
Can I receive compensation if a motorcycle defect caused my crash?
Possibly. If there was a manufacturing or design defect, then we might sue the motorcycle manufacturer or whichever company manufactured the part. Your mechanic might also have performed poor work, which could have made the motorcycle unstable or uncontrollable. In these situations, an accident victim can sue.