Brooklyn Car Accident Lawyers
Many car accidents are avoidable, but happen anyways due to the careless, aggressive, or reckless behavior of individuals, especially in congested cities like Brooklyn. Those involved in a car accident often find themselves hurting in a number of financial, physical, and emotional ways. Injuries can be expensive to treat, especially if they involve long-term disability or disfigurement. Damaged property, such as your car, can be expensive to repair or replace. Stress can build if you are unable and medical bills accumulate.
At best, car accidents are an unanticipated interruption of life. At worst, they can change your life forever. In the state of New York, all drivers are required to be insured, and since New York is a "no-fault" car insurance state, which means your own insurance company will pay for certain damages regardless of fault.
But insurance policies have limits, and sometimes a car crash can be so devastating that medical costs surpass these limits. Fortunately, in cases of "serious injury" you may be able to hold the responsible driver, whose negligent actions caused the crash, liable for expenses that exceed your insurance policy limits. According to the law, if your injury meets one of these standards, you may be able to file your case in court to seek higher damages:
Death
Loss of limb
Serious disfigurement
Broken bones
Loss of pregnancy
Loss of an organ, a bodily function, or the use of a bodily system
Significant injury to an internal organ (e.g., traumatic brain injury)
Injuries that interfere with your day to day life for at least 90 of the next 180 days after the accident
Our team of attorneys at Sullivan & Galleshaw, LLP are committed to helping innocent people involved in serious car accidents get the compensation they deserve for their injuries.
Brooklyn, NY Car Accident Statistics.
Every month, the New York City Police department releases publicly available data about car accidents, including those in Brooklyn. Below are some statistics based on the data available for the month of May 2021.
The majority of vehicles involved in a Brooklyn car accident are passenger vehicles, SUVs, or a station wagon. Just under half of all vehicles involved in a car accident were passenger vehicles. Bikes were involved in 4% of car accidents.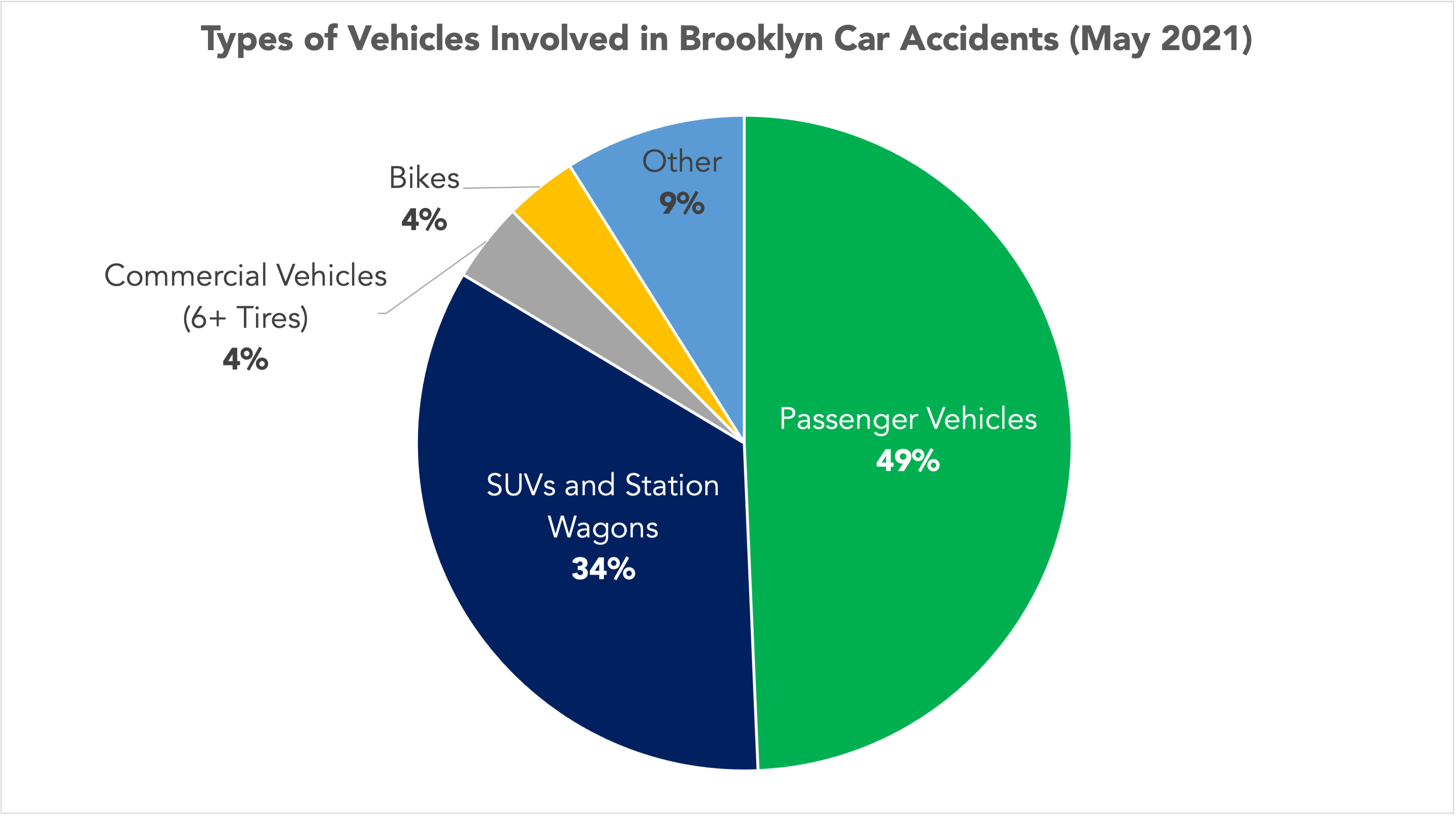 Below is a chart depicting the different contributing causes of car accidents that resulted in injury or death. The biggest contributing factor is driver distraction. The second biggest cause was the failure to yield the right-of-way to other motorists. Most of these contributing factors indicate some type of negligent action.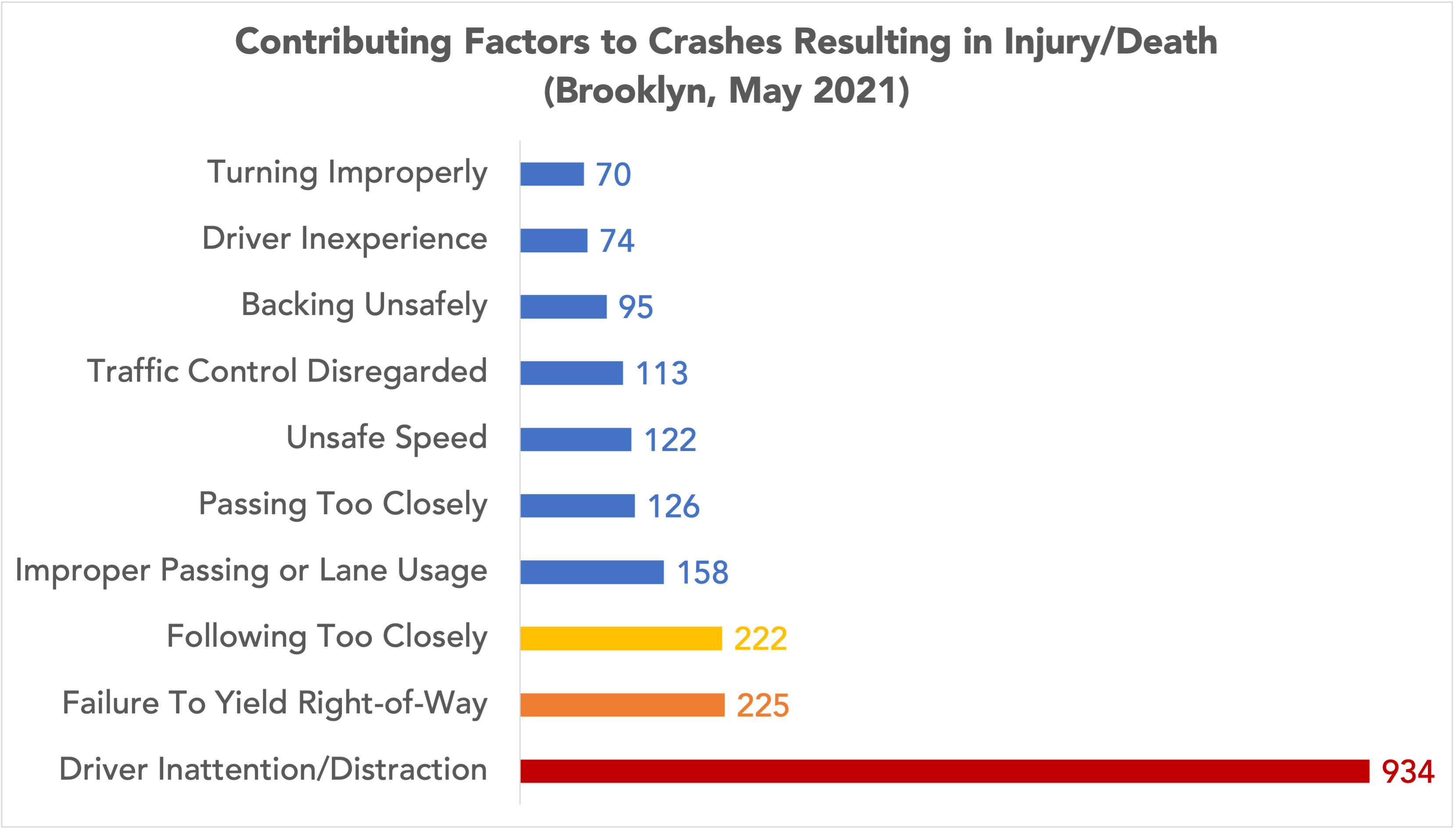 When we look at who gets injured in car accidents, we see that the majority of people injured in car crashes are drivers, but there is also a high proportion of passengers who become injured. Compared to Queens, more pedestrians and cyclists are injured in Brooklyn.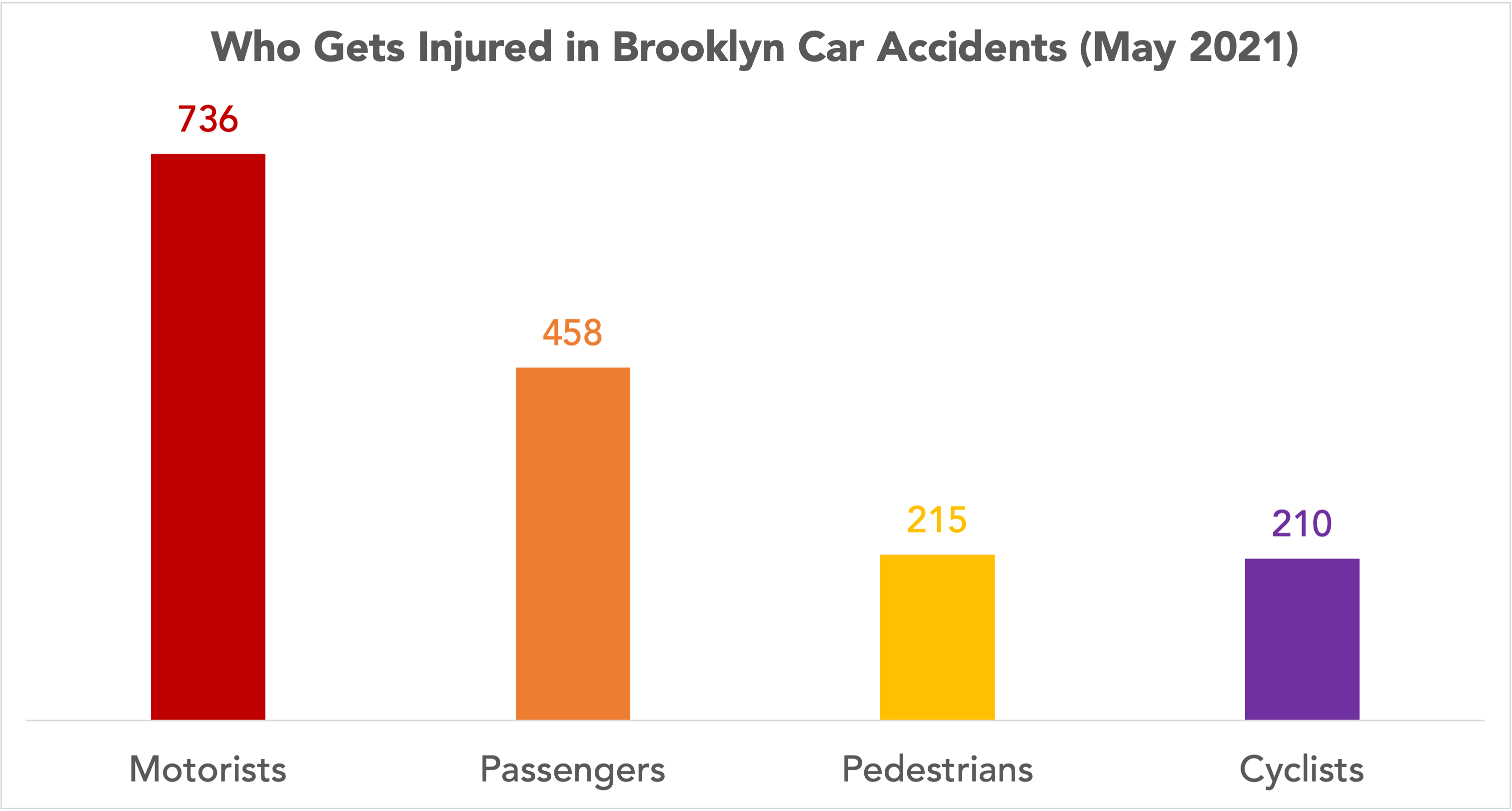 Common Injuries Sustained in Brooklyn Car Accidents
The injuries sustained in a car crash will vary depending on the specific situation, but the most common injuries include:
Whiplash: Whiplash injuries happen when muscles and soft tissues in the body are damaged, torn, or strained due to sudden violent impacts and abrupt changes in speed. This most often manifests itself when a victim's head snaps back and forth in a painful motion. Whiplash can be extremely debilitating.
PTSD: Post-Traumatic Stress Disorder can affect car accident victims involved in serious accidents and can be mentally and emotionally debilitating. Some symptoms of PTSD can include flashbacks, nightmares, and severe anxiety.
Broken bones: Broken bones can occur in high impact accidents. In some cases a broken bone can permanently change how your body functions. In all cases, a broken bone can take months or years to heal.
Internal Bleeding: Internal injuries and bleeding can be hard to detect at the outset but can indicate serious problems. This is why it is crucial to be examined by a medical professional as soon as possible after a car accident.
This is only a subset of the types of injuries that can be sustained in a car crash. At Sullivan & Galleshaw, LLP, we realize every collision is unique. That's why we are dedicated to evaluating your specific injuries when calculating the value of your claim and building your claim.
How the Lawyers at Sullivan & Galleshaw, LLP Can Help You
Our law firm wants to help you return back to the condition you were in immediately before the accident. This means making sure you get all necessary medical treatment to restore your health, as well as working to reclaim all direct and indirect expenses related to the injury, such as lost wages or pain & suffering. We work hard to get you fair compensation.
We help prove liability of the other driver by gathering evidence, and if necessary, conducting an independent investigation of fault. We do our best to anticipate potential defenses by the at-fault party and their insurance company. We work to build a strong argument about why the driver's actions were negligent and why they should be held responsible.
When you hire Sullivan & Galleshaw, we deal with all relevant insurance companies on your behalf. We will take care of all negotiation and investigation on your behalf. This means you get to focus on recovering.
Why Choose Sullivan & Galleshaw, LLP As Your Brooklyn Injury Lawyer?
Our law firm has earned a reputation for excellence. We've helped people throughout Brooklyn and across New York City. Our two principal attorneys, Jay Galleshaw and Keith Sullivan, have over 30 years of collective practical experience representing injury victims across the greater New York metropolitan area.
We have received many reviews and earned case results that reflect our prior accomplishments. While past results do not guarantee of any future outcome, they can still be a useful indicator of our experience.
Furthermore, we understand that every case is unique and requires a custom approach — no two cases are ever the same. That's why we work to give your case the individual attention it deserves, and we cater our approach to each and every case.
Get A Free Consultation From Our Brooklyn Car Injury Lawyers
Taking action as soon as you can is key to building a strong case. Delaying can cause crucial evidence to be lost or cause doubts about the extent of your injuries. Contact our law firm today for a free consultation. We can examine whether you have a strong case and outline what your legal options are and what your next steps should be. Call us now or fill out the contact form near the bottom of this page. We are a local law firm and help individuals throughout Brooklyn.
Frequently Asked Questions about Car Accident Cases in Brooklyn
What information should I collect after a car accident?
After calling for emergency services, you should request information from the negligent driver that caused the accident. You should request the driver's name, license, contact information, insurance carrier, and take down the make and model of their vehicle. If you were involved in an accident with a commercial vehicle, you should also request the name of the driver's employer.
It is also important to take photographs of the scene of the accident. Take photos of your injuries and the damage to your vehicle and any other vehicles involved in the accident. Additionally, you should make a note of any adverse weather conditions that may have contributed to the accident. For example, if you were struck by a negligent driver when it was bright and sunny, this may be evidence that the driver was distracted.
If anyone observed the accident, you should approach these witnesses to determine whether they would provide you with a statement. While New York operates on a no-fault insurance system, a statement from a witness may greatly help if you need to file a personal injury lawsuit.
What is the "statute of limitations" and how does it affect my claim?
The "statute of limitations" refers to the time limit you have to file a claim. Under New York law, the statute of limitations gives a plaintiff three years to file a claim from the date a car accident occurs. It's important to understand that the statute of limitations is extremely rigid — and if it expires, you will not be able to advance your claim or collect any compensation as the court will bar your claim.
To avoid getting into this situation, you should contact an automotive accident attorney as soon as possible. This will also grant a longer period of time to conduct a detailed investigation into the matter, which could involve analyzing car parts, injuries, medical records, and driving records. Waiting too long to file your case can result in important evidence being lost or destroyed or even having the memories of your witnesses become unreliable. Additionally, if you need the compensation from your case to handle your expenses, waiting longer to pursue damages for your claim will not help you.
The purpose of the statute of limitations is to encourage plaintiffs to pursue their legal claims in a timely fashion. While coping with the aftermath of a serious car accident can be difficult, the court wants to ensure that the plaintiff has their day in court while also being fair to the defendant. Without the statute of limitations, a defendant could be looking over their shoulder for years in anticipation of a legal action that may never occur.
If the victim passed away and you are filing a wrongful death claim on their behalf, you have two years from the date of death — not the date of the accident — to file your claim. Wrongful death claims typically are brought by people that were close to the deceased victim, like a spouse or a child.
How long will it take for my case to be resolved?
Each case is unique and the amount of time it takes to resolve will vary depending on how the at-fault party responds. We will do our best to keep you up to date on the status of your case.