Car Accident Lawyer in Manhattan, NY
A car accident can change your life in an instant. At best it may be a temporary, unanticipated interruption. At worst, you may find your life changed significantly and permanently. Most car accidents are caused because a driver was negligent and failed to drive safely or follow traffic laws. Their careless actions can result in severe injuries for innocent people. If you or a loved one has been injured due to another driver's careless actions, you may now be facing high medical costs, lost wages, and severe pain and suffering.
New York is a "no-fault" insurance state, which means you must file a claim with your own insurance company after an accident, regardless of who is at fault. This can be convenient, but there is a limit to how much the insurance company will pay out. For serious, more expensive injuries, it may be possible to file a lawsuit against the at-fault party. This is because New York law allows for lawsuits to be filed in cases of "serious injury." A "serious injury" is defined as an accident that results in one of the following conditions:
Death
Dismemberment/amputation
"Significant disfigurement"
A broken bone
Losing a fetus
Loss of function in an organ or body part
Permanent limitations in a bodily function
Significant limitations in a bodily function
A non-permanent injury that will keep you from going about your daily tasks for 90 of the first 180 days after an accident.
Some of these injuries, especially fractures, can happen in even moderate car accidents. If you broke a bone or suffer limitations to a bodily function, let alone permanent loss of function, you may be entitled to sue instead of relying upon your insurance.
Understanding Negligence In Manhattan Car Accident Claims
Negligence is the concept that someone failed to act prudently and that their careless actions resulted in the injury of another person. Negligence can take many forms. Some common forms of negligent actions include driving while intoxicated, aggressive driver, breaking traffic laws, and even mechanical failures or defects in your vehicle.
The True Cost Of a Manhattan Car Accident
A car accident results in many different types of costs. There is the cost for repairing any vehicular damage. There is the cost for medical treatment of injuries, which can be ongoing or permanent for more serious injuries. For instance, a traumatic brain injury can have a lifetime treatment cost that exceed one million dollars.  There are also financial costs in the form of lost wages.
Moving beyond finance, there can be significant physical and emotional costs, such as disfigurement, stress, and pain & suffering.
All of these costs should be considered when filing your claim.
Manhattan, NY Car Accident Statistics
Below are statistics regarding Manhattan car accidents based on data for the month of May 2021 from the New York City police department's public data.
The types of vehicles involved in Manhattan car accidents are more diverse when compared to Queens or Brooklyn. Only 75% of vehicles involved included a passenger vehicle, SUV, or station wagon. 7% of accidents involved a bike while 5% involved a taxi.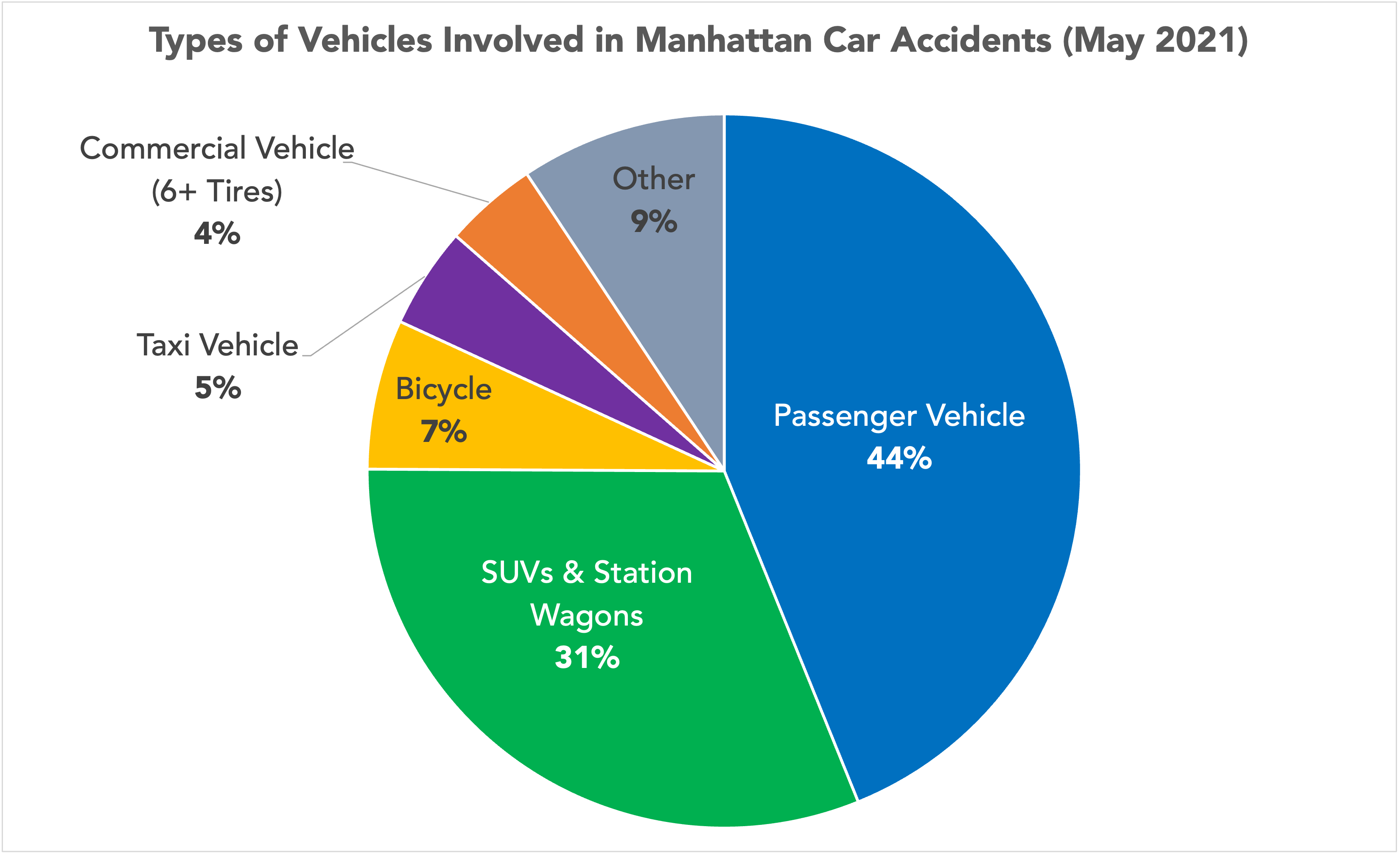 The most common contributing factors to Manhattan car accidents that resulted in injury or death in May of 2021 was driver inattention or distraction. The next most common factors were "Following Too Closely" and "Improper Passing or Lane Usage."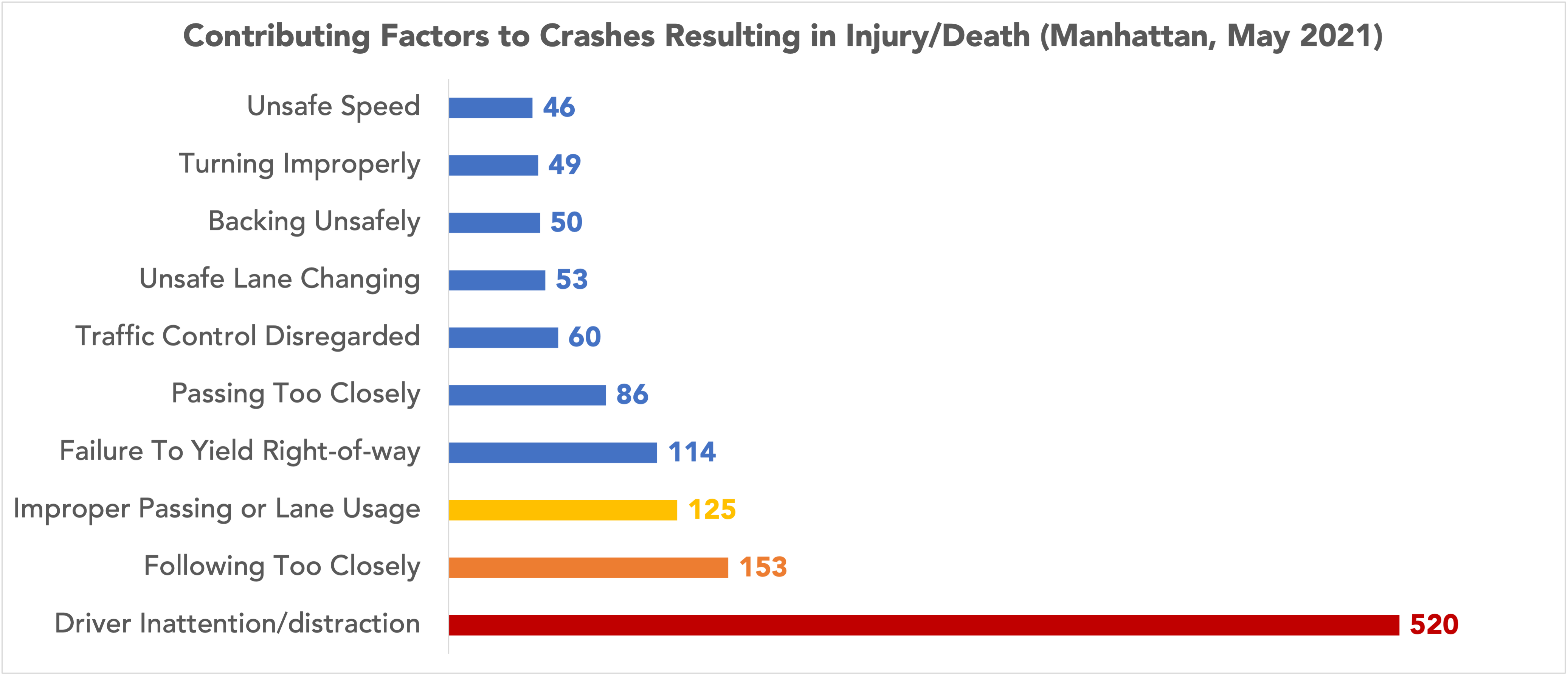 When we look at who gets injured in Manhattan car crashes, we see that the majority of people injured are drivers, but an equal amount of passengers and cyclists also get injured. Overall, it is more likely for a pedestrian, passenger, or cyclist to get injured in Manhattan than in Brooklyn or Queens.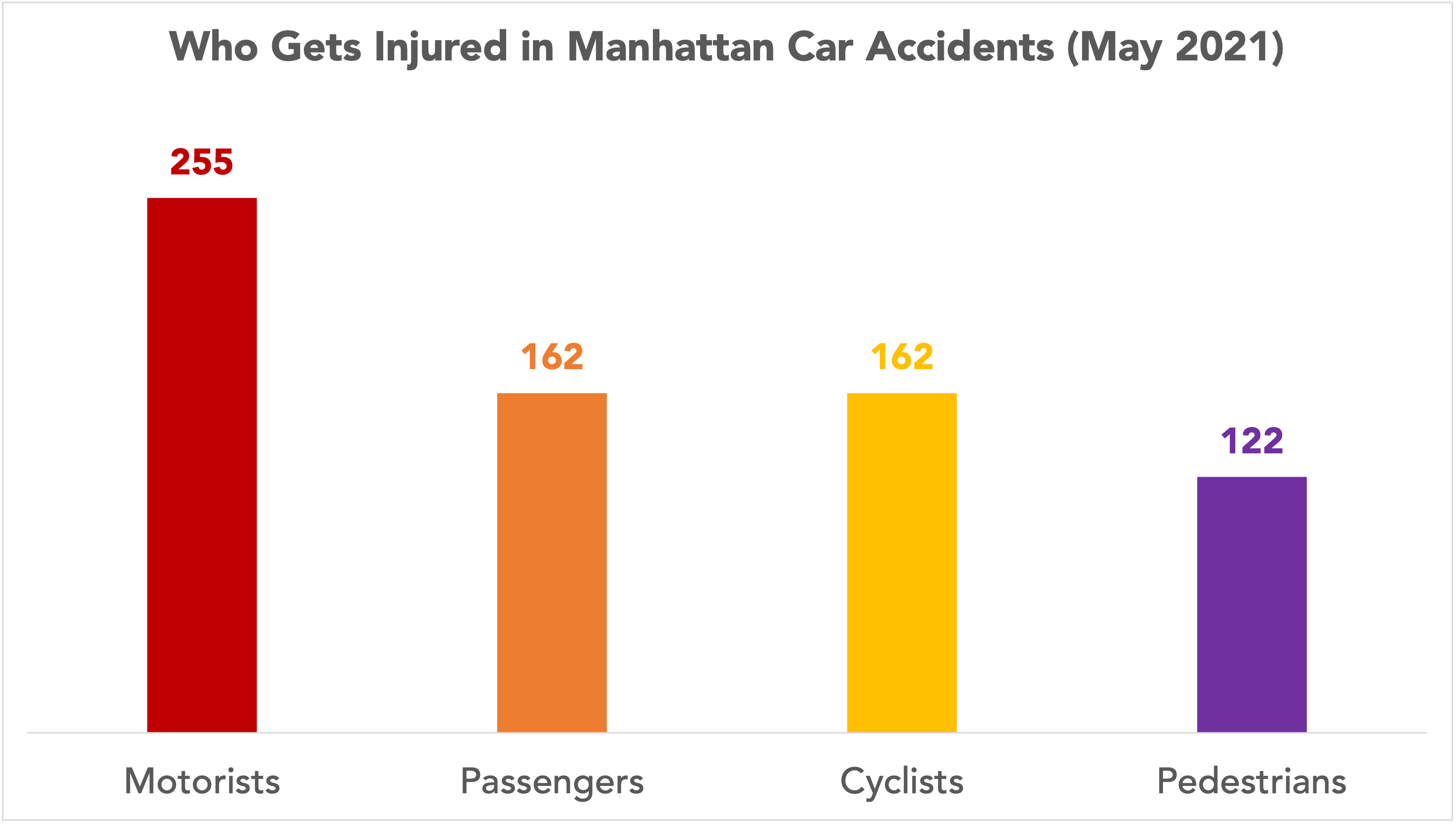 Common Injuries in Manhattan Car Accidents
Burns — Burns are among the most painful injuries to treat and recover from and can be physically as well as emotionally traumatic.  Burns can cause permanent exterior disfigurement, sepsis, tetanus, shock, and hypothermia.  Third degree burns require skin grafting and may take entire months to heal. Severe burns can also result in permanent disfigurement.
Cuts and Lacerations – Cuts and deep lacerations can happen in a number of ways during a car accident. For example, vehicle windows often break during T-bone accidents, spreading glass and other debris across the interior of the vehicle. Once the window glass is shattered, they can cut the driver and passengers in the car or even result in deep puncture wounds under certain circumstances.
SCI (Spinal Cord Injury) — When your spinal cord is injured, messages cannot travel effectively between the brain and the rest of the body. As a result, SCIs frequently result in partial to complete paralysis. While paraplegia and quadriplegia are the best known forms of paralysis, paralysis may also manifest as monoplegia (affecting one part of the body), or hemiplegia (affecting both arm and leg on one side of the body).  The majority of paralysis patients never regain full mobility in the affected area.
TBI (Traumatic Brain Injury) — Brain injury is "traumatic" when it is caused by an external blow, such as slamming your head against a window or being struck in the head by a loose object flying through the car upon impact.  The CDC ranks motor vehicle accidents as the third leading cause of TBI across all age groups, accounting for 14% of cases.  The CDC also cites vehicular accidents as the number two cause of TBI-related deaths, accounting for just over one quarter of fatal cases.
How Sullivan & Galleshaw, LLP Can Help You
Having a lawyer to consult with can help you make the strongest claim possible. Our attorneys can help you determine next steps and handle all administrative work. We can help prove the negligence of another driver by gathering evidence, and if necessary, conducting an independent investigation of fault. We do our best to anticipate potential defenses by the at-fault party and their insurance company. We work to build a strong argument about why the driver's actions were negligent and why they should be held responsible.
Why Choose Sullivan & Galleshaw, LLP As Your Manhattan Car Accident Lawyer?
Our law firm has helped many people throughout Manhattan and across New York City. Our two attorneys, Jay Galleshaw and Keith Sullivan, have over 30 years of collective practical experience representing injured people across the New York metropolitan area.
We have earned many reviews and case results that reflect our prior accomplishments and reputation for excellence. While these past results do not guarantee any future outcomes, they can still be a useful indicator of our experience.
Additionally, we understand that no two cases or people are ever the same. We treat your case as unique and take a custom, tailored approach to it. That's why we work to give your case the individual attention it deserves.
Our Manhattan Auto Accident Lawyers Are Ready To Help You
If you or a loved one was hurt in a car accident while driving in Manhattan, consult with the attorneys at Sullivan and Galleshaw today. Our lawyers have decades of experience representing the victims of car accidents, and we work diligently to maximize the damages our clients receive after a car crash. For help with your case and to schedule a free legal consultation, contact our attorneys today by phone or by filling out the form at the bottom of this page.
Frequently Asked Questions about Car Accident Cases in Manhattan
What are medical authorizations and what should I do if asked for one?
Medical authorizations are what allow insurance companies to see your medical records. It is recommended to consult with a lawyer before granting this written permission. As a general rule of thumb, you want to ensure that you limit any medical authorization to only the injuries sustained in the car accident.
What if I was at fault?
Even if you were partly at fault for the accident, you may still be able to receive compensation. New York law diminishes your damages by the percentage of fault you shared in causing the accident. E.g., if you were 10% at fault for the crash, your damages will be reduced by 10%. However, unlike some states, you are entitled to sue for the fair share of damages you deserve even if you are more than 50% responsible for the crash.
What evidence is important for a car injury claim in Manhattan?
Photographs and contact information of the other driver and any witnesses can be crucial for establishing fault and what happened. Medical documentation and records are also important for justifying the amount of your claim.