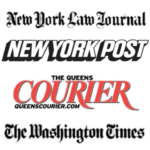 Sullivan & Galleshaw, LLP reciben cobertura por sus comentarios legales en programas de televisión nacional y por los resultados de casos que proveemos a nuestros clientes. Las reclamaciones de daño personal que manejamos han devuelto veredictos en los millones de dólares, asegurando que los heridos recuperen cada dólar que merecen por las dificultades que han atravesado debido a la negligencia de otros.
Nuestros resultados, comentario, y opiniones relacionadas a nuestras reclamaciones y tópicos legales haciendo noticia alrededor de la nación han sido reseñadas en una variedad de publicaciones nacionalmente distribuidas, incluyendo The Washington Times, el New York Post, y el New York Law Journal. Creemos fuertemente que todo cliente merece el consejo legal más fuerte posible, y que sus historias demandan atención para ayudar a prevenir accidentes similares o incidentes en el futuro.

The New York Post
The New York Post featured our attorney, Keith Sullivan, assisting clients in stopping a local hospital from pulling the plug on their young child's life support systems.
Don't Let My Child Go Yet
Los Angeles Times
Our lawyers force an advertising agency to pull a controversial ad about 9/11 that allegedly involved a misled NYFD firefighter.
Controversial 9/11 Ad Pulled, Agency Says
Long Island Press
Our senior citizens deserve every protection under the law when entrusted to nursing home care. Read how Sullivan & Gallishaw, LLP is making a difference for them.
Nursing Home Financial Scandal