Servicios Legales de Primera a Base de Primer Nombre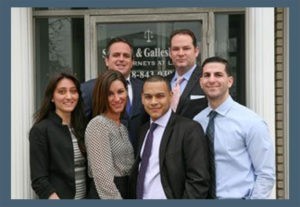 Los experimentados abogados de Sullivan & Galleshaw, LLP se enfocan en todos los asuntos relacionados a daño personal incluyendo heridas causadas por impericia médica, abuso en asilos, accidentes de auto y camiones, resbales y caídas, y accidentes en el empleo. El compromiso de nuestra firma con cada uno de nuestros clientes va más allá de proveer consejo legal de alta calidad y abogacía estratégica. Cuando proveemos servicios legales, lo hacemos en base al primer nombre con el cuidado, experiencia y competencia que nuestros clientes merecen. El proceso de desarrollar una fuerte relación abogado – cliente puede traer muchos beneficios al manejo de su reclamación de daño personal; puede ayudarnos a comprender mejor los efectos limitantes de su herida y sus necesidades de litigio y metas.
Our firm is known and respected throughout New York and nationwide. When major television news channels like Fox News, MSNBC, NBC 4 New York, and Fox 5 NY are seeking legal answers and clarification they come to us. Likewise, when newspapers, and print media sources like the NY Post, New York Daily News, LA Times, Queens Courier, and the Long Island Press are seeking insight, they also come to us. In short, you can rely on the legal guidance and advice provided by the experienced lawyers at Sullivan & Galleshaw.
En Sullivan & Galleshaw, LLP nuestros abogados de daño personal están comprometidos con cada uno de nuestros clientes. Perseguimos todas las reclamaciones viables estratégicamente y agresivamente para así aumentar la posibilidad de un resultado favorable. Cuando trabaja con nuestra firma, puede estar seguro que trabajaremos activamente e incansablemente para responsabilizar financieramente a las partes causantes de sus severas heridas o la muerte injusta de su ser querido. Somos la firma que necesita cuando importa más para usted y sus seres queridos.
En Sullivan & Galleshaw creemos que tenemos una responsabilidad para con el público. Como parte de nuestra responsabilidad y compromiso con la justicia y el público, los abogados de Sullivan & Galleshaw, LLP participan en una extensiva cantidad de representación pro bono. Esta representación provee un abogado de alta calidad y experiencia para aquellos que pueden encontrarse severamente heridos o menos afortunados, pero son igualmente importante. Nuestra representación pro bono incluye el proyecto Wounded Warrior, Merit Matters, el Dr. Theodore A. Atlas Foundation, el Boxing Writers Association of America y más. Además la firma también a fundado causas y caridades.Estas son solo algunas de las maneras que expresamos nuestro compromiso con la justicia y los ciudadanos de New York.
Sullivan & Galleshaw, LLP puede proveer a sus clientes una representación agresiva en una gran variedad de asuntos de litigio de daño personal. En cada caso que tomamos, tratamos a nuestros clientes con una guía legal compasiva, profesional y orientada al detalle. En esencia, las necesidades de nuestros clientes siempre vienen primero.