According to the National Cancer Institute, more than 1,600,000 new cases of cancer will be diagnosed in 2015.  Averaged out across the year, that equates to more than 4,380 new diagnoses every day.  While many cases will be diagnosed, many others will go undetected by the doctors who are trained to recognize their warning signs.  If your doctor failed to diagnose cancer or misclassified a malignant tumor as benign, you and your loved ones may be able to get compensated by filing a medical malpractice lawsuit.
How Often Do Doctors Fail to Diagnose Cancer?
Unfortunately, it is not uncommon for healthcare professionals to miss cancer diagnoses which should have been detected.  The frequency with which doctors fail to properly diagnose cancer has been documented by various studies.  This issue has the potential to arise in connection with any type of cancer.
According to a medical study published in Annals of Gastroenterology in 2015, colonoscopies — which are used to diagnose about half of all colorectal cancer (CRC) cases — are typically reported as having a 5% "miss rate."  However, the study uncovered that, while colonoscopies actually had a lower miss rate of 3.5%, the general "false negative or miss rate of colonic investigations was 8%."  It also found that some methods of diagnosing CRC were considerably less reliable than others.  For instance, the study cited a shocking miss rate of 50% for flexible sigmoidoscopy.
The study also made another important point:
"Besides miss rate of diagnostic modalities, failure to investigate symptoms also may cause delayed diagnosis, which was not evaluated in our study.  Attributing a few episodes of rectal bleeding to benign causes such as hemorrhoids and hence not investigating further could also cause delay in diagnosis in CRC."
To provide another example, a 2010 study published in the Journal of Clinical Oncology discovered "missed opportunities in 222 (37.8%) of 587 [lung cancer] patients."  In cases without "missed opportunities," the cancer was diagnosed quickly — a median of just 19 days.  In stark contrast, cases where diagnostic opportunities were missed took a median of 132 days to be diagnosed.  Put another way, it took these patients nearly seven times longer to receive an accurate diagnosis of their condition.
The longer diagnosis is delayed, the more developed and treatment-resistant cancer can become.  Patients who receive delayed cancer treatment generally need more aggressive treatment plans, which places an enormous financial burden on both the patient and his or her family.  Patients who receive delayed medical treatment also have a higher risk of wrongful death.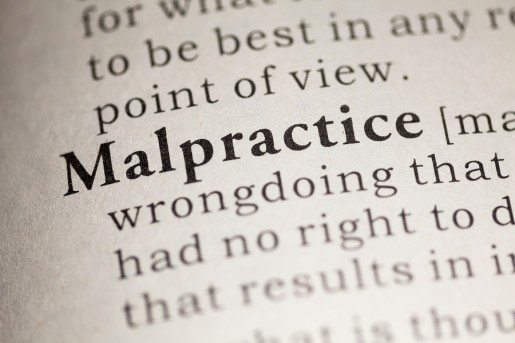 What Constitutes Medical Malpractice?
Malpractice occurs when a doctor is negligent, meaning he or she fails to take the normal, expected steps to prevent a foreseeable risk of injury, illness, or death.  In other words, a doctor commits malpractice when he or she fails to do something which another doctor in the same field would have done, given the same set of circumstances and access to information about the patient.  If a doctor has reason to be aware that a patient is developing cancer, yet fails to diagnose and intervene as appropriate, he or she may have been negligent and thus liable for compensating the victim.
In order for a malpractice plaintiff to be successful in a personal injury lawsuit, he or she has to prove four points, which are described below:
A formal patient-doctor relationship must have existed between the parties to the lawsuit (plaintiff and defendant). Taking medical advice from a friend who is also a doctor does not constitute malpractice, because no formal relationship exists to create a duty of care toward the patient.
The duty of care, or standard for providing reasonable care, must have been somehow violated (breached) by the doctor.
The plaintiff's injuries or illness must have been caused by the doctor's breach of duty.
The breach of duty must have resulted in damages to the plaintiff. Damages can refer to injuries, pain and suffering, financial losses, and/or emotional distress.
Medical malpractice or doctor negligence is an exceptionally complex and intricate area of law.  Even if you aren't sure how strong your case is, or don't know where to get started, it is always worth discussing the matter with a personal injury lawyer.  If you were harmed by your doctor, you deserve to have the situation investigated.
Our malpractice attorneys understand how difficult it can be to talk about a cancer diagnosis.  Whenever you're ready, Sullivan & Galleshaw will be here to listen and provide you with answers to all of your legal questions.  With more than 30 years of experience representing malpractice victims in New York City, our knowledgeable legal team knows what to look for when building a case.  To schedule a free, completely confidential legal consultation, call our law offices at (718) 843-0300.